Pretty huge move by team Trump:
Attorney General Jeff Sessions fired former FBI Deputy Director Andrew McCabe late Friday, less than two days shy of his retirement, ending the career of an official who had risen to serve as second-in-command at the bureau.

Shortly after midnight, Trump tweeted.

"Andrew McCabe FIRED, a great day for the hard working men and women of the FBI – A great day for Democracy," Trump said. "Sanctimonious James Comey was his boss and made McCabe look like a choirboy. He knew all about the lies and corruption going on at the highest levels of the FBI!…"

McCabe had been expected to retire this Sunday, on his 50th birthday, when he would have become eligible to receive early retirement benefits.

But Friday's termination could place a portion of his anticipated pension, earned after more than two decades of service, in significant jeopardy.
The pension consequences could be severe:
Andrew McCabe, the former No. 2 at the FBI who is fighting for his job in the wake of an internal investigation just hours ahead of his official retirement, potentially stands to lose out on hundreds of thousands of dollars in retirement benefits…

On his 50th birthday — this Sunday — the veteran law enforcement official would become eligible for early retirement benefits, given his 20-plus years of service, according to federal guidelines…

Considering McCabe's number of years at the agency and estimations of his high-level pay grade, formulas published by the US Office of Personnel Management for law enforcement officers show that his yearly payout could hit in the area of $60,000 each year, if McCabe were to retire after his birthday on Sunday.

If he were to be fired before Sunday… per federal rules, McCabe may not be able to draw an annuity until a date ranging just shy of his 57th birthday, and as late as his 62nd. That could put the value of his uncollected pension in the realm of a half-million dollars…

"What he would lose — and this is a lot of money — he would lose the enhanced benefits that law enforcement officers get," said George Chuzi, an attorney who represents federal employees.

Under the rules of FERS, that means he could be left with the standard multiplier of 1% on top of his years of service, down from the 1.7% enhanced rate for law enforcement.

Former FBI officials tell CNN that McCabe could also lose out on future health care coverage in his retirement if he were to be fired before he turned 50, and the firing could be subject to litigation.

The "most significant 'damage' to a separated FBI employee is: loss of lifetime medical benefits for self and family," tweeted CNN law enforcement analyst James A. Gagliano, a retired FBI supervisory special agent.
Interestingly, McCabe made this threat earlier:
In the days before FBI Deputy Director Andrew McCabe was forced out of his job, he threatened to "torch" the bureau if he was ousted before his full federal retirement benefits kicked in, according to a new report.

"He was unglued," one FBI source told True Pundit. "Someone should keep an eye on him."
This is interesting, in that it gives you several tidbits. One, when McCabe wants to keep his job, he issues this threat, probably just on his private phone, to a friend. Notice this wasn't a threat to Trump, or Sessions. Trump and Sessions would want him to burn things down, so they would fire him gleefully if he made this threat. This threat was to someone else, who both wants things to stay as they are, and who McCabe believes can over-ride Trump and Sessions.
Second, McCabe issues that threat aimlessly, to a friend. If you've never dealt with the Cabal, this could go over your head. If you have been through the wringer in that game, it will mean two things. One, that even McCabe, the functional head of the bureau's day to day operations, has no idea who runs things. He can't pick up the batphone and dial up his handler in Cabal, Inc. and tell them, you need me to stay quiet, and here is what I want. He has to issue a general threat to a friend, over a phone, and hope they will get the message, and scratch his itch.
The other interesting thing is he issues the threat over a phone they are monitoring, knowing it will get passed up the chain. Even machine assets live their lives in the fishbowl, every word they utter monitored, and they know it. When they want to send a message up the chain of command, they simply talk – to friends, to themselves, to whoever – and they know the upper echelons will hear it. The downside? Private time with the wife is never really private. And if you have a mistress like Strzok, you are performing for a crowd.
If you ever have the misfortune to fall under the regime's watchful eye, one good way to normalize your being in the fishbowl is to realize, everyone, even the operators, are living in it today. The Cabal cannot allow anyone to go off the reservation when they are so far afield from what society in general would see as proper. So the more a person will know about the machine, the more they will be watched, to make sure they don't reveal anything and don't get lax with Opsec. So you will never be alone, and what you experience will not be unusual. The people doing it probably have it worse than you, and they probably never knew about or agreed to it when they volunteered. In truth, everyone you see, operator, civilian, and yourself, is fucked. The only difference you will have is your awareness of the game's rules.
This also shows that the old way things worked has changed. In the opinion of the top operational domestic intel guy in the nation, this would have had his pension secured in old DC. The swamp would have quietly conferred, decided he was more trouble than it was worth, and he would have quietly walked away with his pension, and nobody in the media would have questioned it at all. But not today. Something is different. I cannot imagine the terror McCabe must be in.
Also amusing is the fact that I think this entire article was the Cabal's response to McCabe, put in a place where he would see it. It is funny if you think about it. When McCabe wants to send a message, he picks up a private phone to a friend and issues his threat, knowing his listeners will route it to where it needs to go, and when the Cabal wants to send a message back, that go to the media, tell the media he is making threats, and finish with the ominous line, "He was unglued. Someone should keep an eye on him."
I wonder what that could mean. When McCabe sees that, the message is clear. "Sorry, Andy, but you are fucked, and you'd better take it gracefully because we are watching."
We had a big debate over the Jewish Question, and my paranoia that the Jews are a Cabal meme, nobody would ever let that meme rise if they were the Cabal leaders, and there is a deeper ring of the onion and nobody knows who it is. Whoever was running things in the old model – whoever told the Attorney General what to do, whoever controlled the IG office, whoever moved Senators, and Congressmen, and Presidents, and SC justices, and whoever was dropping bodies, and controlling the media – even the operational head of the FBI had no idea who they were, or how to contact them. They were the ether – all around them and totally unseen.
The amusing thing would be if it all traced back to some overweight basement dweller on 4Chan, sitting in his bed surrounded by empty potato chip bags, though I doubt that is right. More likely, it traces back to Europe's earliest days, because once you attain that level of power and omniscience, and you are willing to kill whoever gets in your way, and you are professional enough to totally reject fame and the overt trappings of power in this way, it is very difficult for anyone to move on you. Once you establish that kingdom, it will last for a very long time. And every century you last comes with several lifetime's worth of lessons in how to better secure your position and establish your kingdom to last forever.
Some even believe it traces all the way back to the Roman Empire, and I see it as totally possible.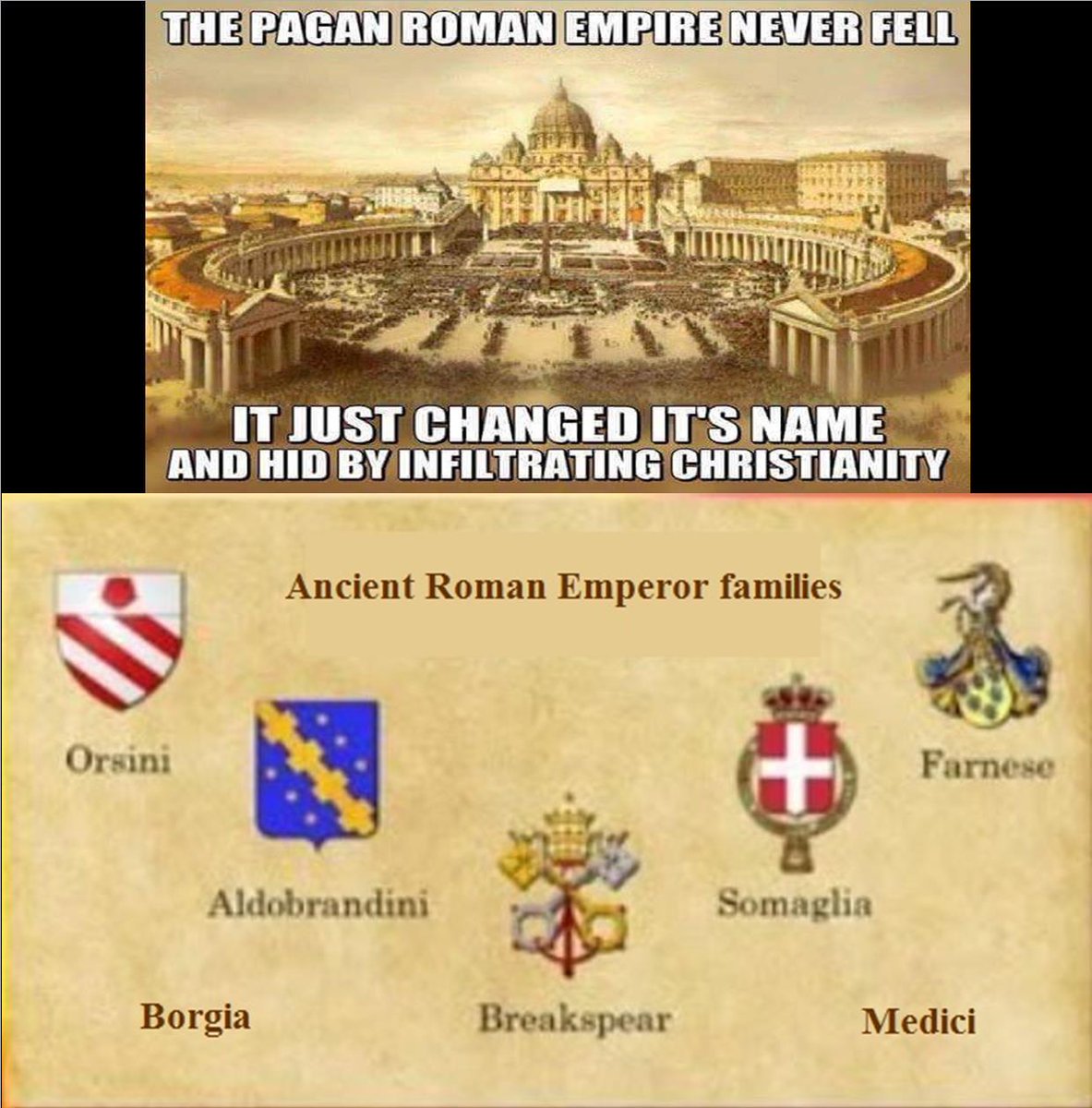 Of course being professionals, the first thing they would do is hide their wealth and change their names, maybe even to Jewish names if they were smart. Now who are you dealing with? And it is even possible the Roman leadership were Jewish infiltrators originally who took Roman names and infiltrated the power structures there, before hiding in the Church when it was powerful, and then exiting the Church and reentering the private sector when that became advantageous. Whoever these people are, they will almost certainly be chameleons because that will offer advantage, and they lasted this long by seizing all advantage.
If they got into the Church and imported their power structures with them, which would be a smart move and completely possible, they could last nearly forever. And notice how if Western Nations rose enough, and resources got r-enough that other power structures would begin to rise and everyone would begin to equalize, they might view collapsing things as a good way to prune back the competition, and reestablish their own dominance so nobody would threaten them.
Their problems here might actually trace back to our period of massive, uncontrollable r-selection allowing some intel somewhere to rise up to the point they were able to challenge them, and the Cabal couldn't keep proper track of everyone to get on top of it as things equalized too much. There might be a tactical lesson on timing there for intel professionals who want to take down things like this in the future. And there might be a strategic lesson on funding. The downfall of the cabal might have had its seeds sown when Reagan first decided to tap the national debt, and flood the free resources on a limitless basis, to a degree never seen in history.
Of course the biggest practical lesson is, be careful of associating with the Clintons. As James McDougal said, everyone who enters their sphere has a "tornado" tear through their life. McCabe was no different, and there is no guarantee this is the end of his tornado. Often these tornados end up with the victim committing suicide via multiple gunshots to the back of the head.
If I was McCabe, I would hustle straight to the God Emperor, and throw myself at his feet to beg mercy. The God Emperor walked into politics as a novice, and in months took apart a multicentury global conspiracy which reached through the highest powers of our world and may have outlived everything from the fall of the Roman Empire, to the Black plague, to the greatest War ever waged my mankind. Gaining his favor might be a smarter move than issuing an empty threat into the air at people you have never even seen.
Then again, I would live, and maybe that is just not in the cards for McCabe.
Tell others about r/K Theory, because the game is just beginning.